April is here and with it has come the longer days and warmer weather, a sure sign that Spring has sprung in Southern California.
With the longer days, April is a fantastic time for families looking to get out and and have fun in Los Angeles and Orange County all month long.
With family friendly events celebrating Passover, Easter and Ramadan, the return of Bubblefest to Orange County, the kick off of the Renaissance Fair in Irwindale and a month-long celebration of the Earth, there is surely something for everyone to enjoy.
Check out the list below to find our favorite things to do with kids in Los Angeles and Orange County happening this April.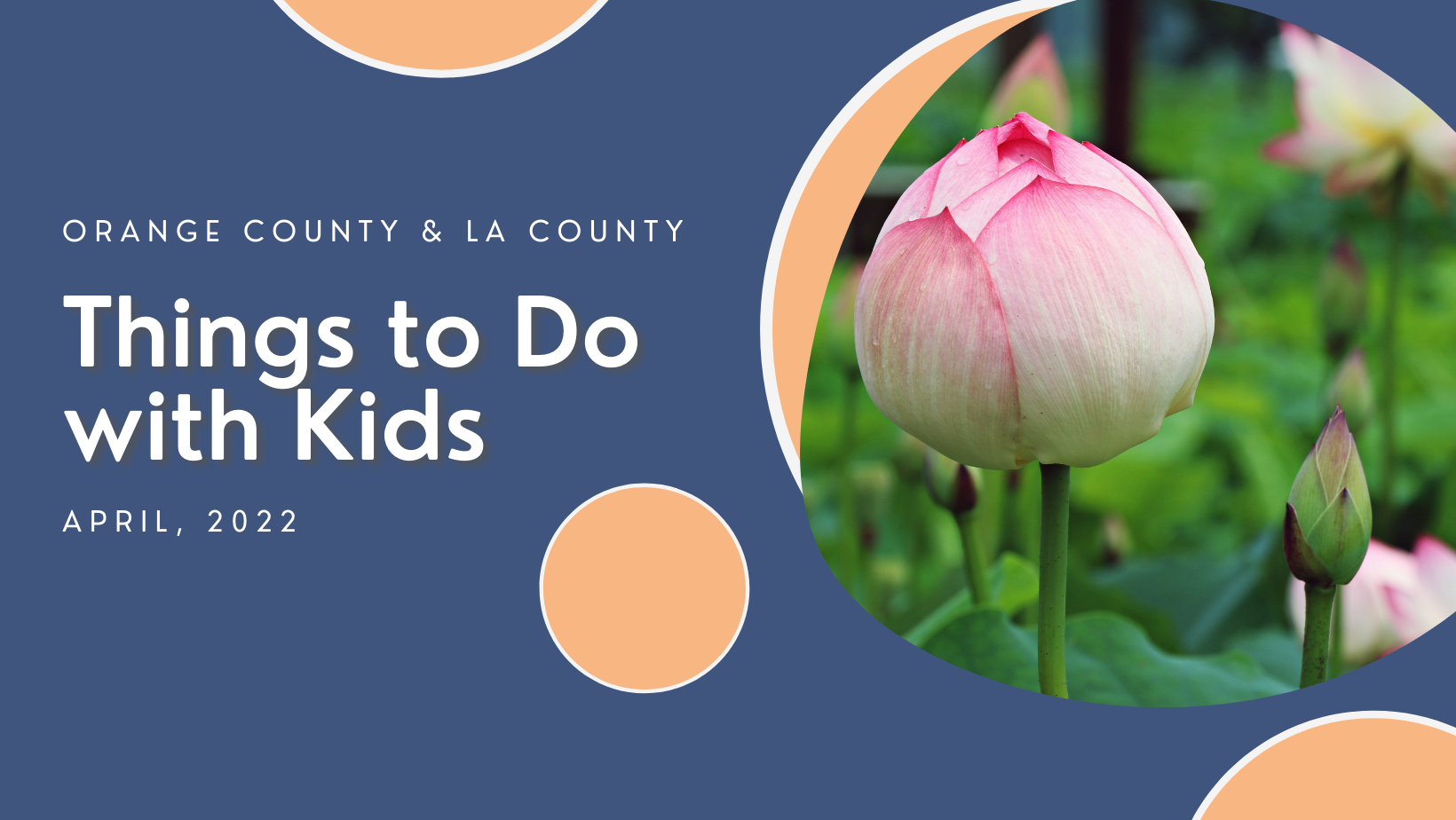 20 Things to Do with Kids in Los Angeles April 2022
4/1-4/17 The LA Spring Fair returns for families to enjoy games, rides and food
4/1-7/31 Immerse yourself in a world of tropical butterflies at the South Coast Botanical Gardens
4/2 Join the International Printing Museum for Krazy Krafts Day for Kids
4/2 Attend the City of STEM Kickoff Festival and enjoy hands on activities for the whole family
4/2-4/26 Celebrate with Springtime on the Farm, families can color eggs, pick fruits and pet live animals
4/3 Celebrate spring at the Cherry Blossom Festival
4/8-4/10 Enjoy fast cars and loud engines at the Grand Prix of Long Beach
4/9 Kids can express themselves through music, movement and art at the Kids Fun Zone
4/9 Learn about local Native American tribe, the Chumash, at an Intertribal Gathering
4/9 Join the fun at Bob Barker Day for puppets, music, activities and more
4/9 Celebrate Earth Day at the Natural History Museum
4/9-5/22 Step back in time and be wildly entertained at the Renaissance Pleasure Faire
4/10 Join Consider the Octopus Author, Gae Polisner, for Aquarium Author Adventures
4/10 Attend Sunday Funday at the Wallis in Beverly Hills
4/18 Spend an evening on the beach for one of SoCal's favorite traditions, the Grunion Run
4/23-4/24 Explore the Los Angeles Times Festival of Books
4/23-4/24 Join the Aquarium of the Pacific for their Earth Day Celebration
4/24 Go on a Fairy Hunt Enchanted Quest and explore fairy magic while enjoying nature
4/24-4/26 Celebrate our state flower at the California Poppy Festival
4/30 Enjoy a family fun day at the Hometown Country Fair
20 Things to Do with Kids in Orange County April 2022
3/26-4/16 Have a family day at Irvine Park and join in their Easter EGGStravaganza
3/30-4/17 Bubblefest returns to the Discovery Science Center!
4/1-4/30 Check out the calendar at The Environmental Nature Center for fun filled activities all month long
4/1-4/3 Celebrate your inner fanatic at WonderCon 
4/2 Explore the Secrets of Space through a live performance of music and magic
4/3 Celebrate Spring at the Bower's Museum Japanese Cherry Blossom Festival
4/3-4/8 Join Casa Romantica for actives and performances during Spring Break Arts Week
4/4 Families can enjoy arts and music at Pretend City's Kidstock Festival
4/8-4/10 Superheroes come to life on stage during The Marvel Spotlight Plays
4/9 Help preserve nature and keep camping safe at Bear Awareness Day at the OC Zoo
4/9-4/10 Invent, play, and experiment at the OC Fair Imaginology weekend
4/22 Help Pretend City transform to Recycle City for their Earth Day Celebration
4/23 Plant trees and shrubs in Mission Viejo for their Earth and Arbor Day Celebration
4/23 Join volunteers this earth day for a Doheny Beach Clean Up to help care for the earth
4/23 Earth Day at the Bay returns with their family friendly Earth Day Celebration
4/23 Learn about Islam at Pretend City's Ramadan Event
4/26 Enjoy a night out as you plan for summer at Laguna Niguel's Summer Showcase
4/29-4/30 Learn more about how to get moving at The OC Lifestyle and Fitness Expo
4/30 Bring the family to The Ultimate Superhero Celebration for activities and even a Superheroes only obstacle course
Celebrate diversity and culture at La Palma's Festival of Nations and Parade
We hope you enjoy this list.  Please check back here for more fun events and activities in Southern California.  For additional resources please www.FranklinEd.com